Submitted by

VeronicaPowers

on Fri, 10/13/2017 - 11:44am
Chapter 10
Previous installments:
Chapter 1 - Mistake at Birth
Chapter 2 - A Wonderful Childhood
Chapter 3 - Coming of Age
Chapter 4 - End of Innocence
Chapter 5 - Life Changes
Chapter 6 - Back to School
Chapter 7 - School Daze
Chapter 8 - Settling In
Chapter 9 - Turning the other Cheek
It's hard for me to believe when my final year at school starts. I've had many good and some bad experiences here. I still miss Janni intensely but at least some other things have filled my heart.
About halfway through the year, the school had a job fair where many prospective employers sent reps out to interview interested students. Most of the girls signed up for secretarial and nursing interviews. I was the only one who signed up to try for a modeling job.

The man who interviewed me was very handsome but also very nice. He made me feel comfortable right away. He explained that some of the modelling jobs might involve partial nudity and so he needed to see me naked. I really wanted the job so I immediately stripped. We were seated next to each other on the couch and soon he had his fly open and his penis out. He guided my head over his penis. As I said, I really wanted the job, so I did my best cock sucking. I had a lot of practice in the last few years. After a while he stood up and positioned me on my hands and knees in front of him. I could feel his penis going up my ass. I was determined to get a good recommendation so I pressed back and soon we were rocking together. He came into me with a shudder. I didn't want to leave with anything unsaid so I asked "Did I answer all of your questions?". He told me he was going to give me the highest recommendation and looked forward to working with me.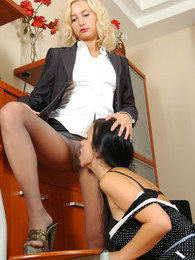 A week later I got a letter inviting me to another interview for the same firm with their HR manager. I figured I had a good shot. I could suck cock and ass fuck with the best of them. To my chagrin, the interviewer turned out to be a woman. Afterr a few 'get to know you' questions, she said that Mr. Peterson said I was a first rate cocksucker. She was wondering if I was as good at eating pussy. I knelt down in front of her and she hitched up her skirt. She wasn't wearing any underwear! I licked and kissed and nibbled her pussy for almost an hour. She had at least four orgasms. When we were done, she told me I got the job! I was thrilled!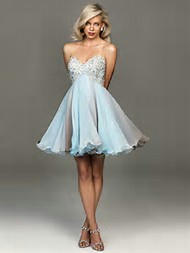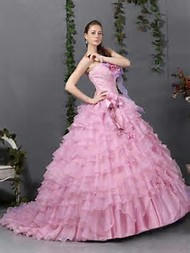 We had severed our social ties with the boys school down the road when a couple of our students got pregnant. So when it came time for the Senior Prom, the administration decided to still hold it as an all girl, in-school affair. I knew a freshman named Angie who was very shy but would talk to me. I asked Angie if she wanted to go with me. She said yes. Angie wore a short powder blue chiffon dress and looked beautiful. I wore a long pink ball gown that my mother had sent me. I was standing by myself on the side of the hall when Miss Rachael came over and asked me where my date was. I explained that she was very shy. Then I let out an 'ooooh'. We looked down and saw the bottoms of Angie's heels sticking out under the hem of my dress. Miss Rachael said "Veronica, you're too much!"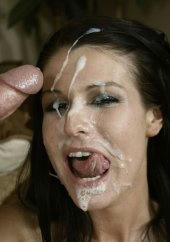 The last big school event before the actual graduation was the awards ceremony about a week before. There were several awards, but the big three were 'best pussy eater', best ass fuck' and 'best cocksucker'. I was nominated and won the 'best cocksucker' award. At the ceremony, the ward winners were invited to come to the stage and show off their talents with their faculty sponsor. I walked up with Coach Ira. For over an hour I sucked on his penis and received several standing ovations. I managed to coax him to come three times! When Miss Rachael was done having her pussy eaten, she came by us and whispered in my ear "Veronica, you were my choice as best pussy eater but we couldn't have one student win two awards." I nodded and went back to licking Coach Iras' penis. After Mr. Landis finished ass fucking his award winner, he whispered in my ear "You were my choice as best ass-fuck, but the rules said you couldn't win two awards." I pulled my mouth off Coach Ira and he sent a jet stream of cum all over my face. I got another standing ovation.
Graduation day came and went. My pregnant mother and her new husband, Detective Vance, attended. I was told I was going to have a little brother.
I wasn't sure what I was going to do now.