Hey girls. It's the blondie giraffe Glenda here again! I've also posted a new fake mistress alert on the forums, that I hope people will look at, but that's not what this post is about. This is much more cheerful!
On behalf of myself, the other admins and Melissa and Renee, we hope you all have a very enjoyable and happy Thanksgiving!
We've said it often before but, regardless of whatever we do behind the scenes to keep the place operational, the real fact is that this place wouldn't exist if it wasn't for all of you. Thank you for contributing in every way that you do - whether big or small, it all counts. Thank you for being friendly and welcoming, thank you for telling wonderfully creative stories, and thank you for being so supportive to one another. The fact that LiL has been going for about 12 years now is testament to the time and energy that our users continuously spend here. So big thanks to all of you!
Also, to dominate the remainder of this post on a selfish, personal note, the end of this month marks my own 10th anniversary here. Yes, really! I was a very shy newbie when I joined back in November 2006, aided in my induction by the sadly-missed Lola, and embarking on a loving relationship with my gorgeous roommate Vivian. Back in those early days, I never imagined that I would still be here after all this time, would meet so many people and get involved with so many stories, or that I would get involved behind the scenes. It's been a wonderful journey of learning and discovery without a doubt.
I know I haven't been involved with the RP side very much since we moved to this new site - primarily because real-life threw a few unwanted curveballs my way, but also because I felt I'd done as much as I could with my character at the time I stopped. But I do have very fond memories of the stories I was involved with and all the characters I met, and I do miss that side of things very much. But I was right to take a break from it. I'm satisfied that my decision, albeit a difficult one forced on me by circumstances, was the right one. Trying to tell stories for the sake of it, when my mind wasn't on it, wouldn't have worked. So I am very sorry I haven't been involved so much - I know I've been missed, and I miss being involved just as much.
This place has also taught me a huge amount about my girly side in real-life, as those who remember my Glenda's Moments thread will testify. There was no bigger journey of discovery for me than that, and I am incredibly grateful to everyone who gave me support and encouragement during that period. It was a completely amateur adventure, but I learnt a huge amount from it, about feminine things and about myself and my capabilities, and I had enormous fun in the process. I highly doubt I would have been brave enough to do a lot of the things I did without everyone behind me like that. Similarly, when fate did conspire to make things difficult for me in RL, everyone rallied round me, and this place became a valuable haven of friendship to get away to.
So thank you - to all my close friends here who have been so supportive and fun over the years, to all the people I've only met in passing who have been so friendly, and even those of you I've never met who I see having fun here. There are far too many of you to thank individually by name. However, I do, of course have to single out Melissa and Renee. I know you're both busy, and I know you might not see this. But if you do, thank you ever so much for creating this amazing space, in which so much fun and love and support and creativity has flourished over the years. It's meant a huge amount to me, and has done so much for me, just as it has for many others. It's appreciated more than words or donations can adequately convey.
In short, this community is incredibly special, and I love you all very, very much. You're an amazing bunch of people, and I'm very lucky and honoured to have been a part of this wonderful family for a decade already. Thank you!
If you want to help me celebrate my 10th anniversary, the girls in M&R and Lacy have been setting up parties for me - and thank you to everyone who has got involved with them, particularly Akane and Jacqeuline who have been leading the groups on each site, but also to all the other participants. It's wonderful to see a few old faces that are still around from my early days.
Each party will be a surprise for my character IC, but not for me OOC as having a celebration was my suggestion, lol! I have missed doing the RP, so I wanted to celebrate my anniversary by having fun reuniting with some old friends, and making a few new ones too. This isn't the start of a major return to RP on my part, at least not at the moment - I can't devote the time and focus to that at present, tempting though it could end up being. But I am looking forward to dipping my toes back in the water again for this party, to see how I get on.
You can get to the party threads by clicking the links below: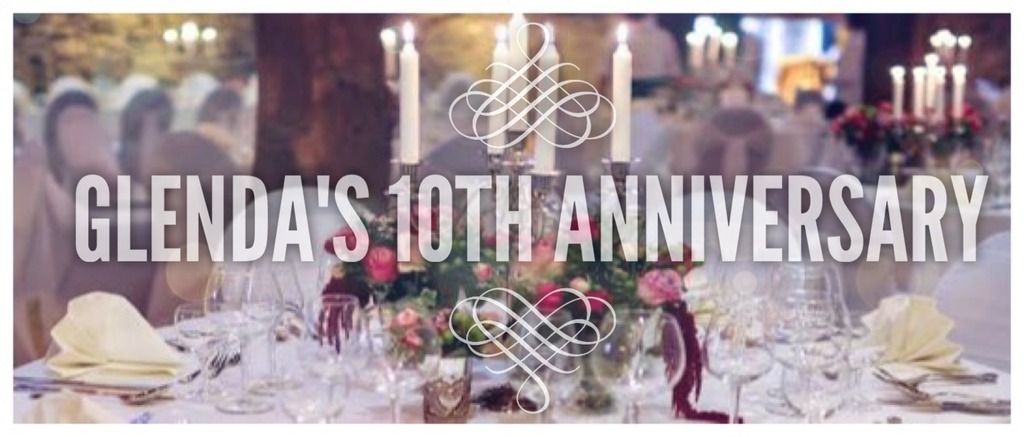 Ok, I'll stop talking about myself now. Thank you for everything you do for this place, all of you, and please have a wonderful Thanksgiving!